On Sale
Don't Forget Your Crown- Signed Copy(407 in stock)
Want all 8 Books Signed Instead (Only 50 in stock)? Click Here 
Ladies, I'm not here to tell you how many secret ways you can bend over backwards to get some man to come and validate you. You've heard enough of that.
Men, I'm not here to tell you how to attract more women in an effort to chase the fulfillment your heart yearns for but you never learned how to keep. You've tried that already. It did not, and still has not worked.

I'm here to tell you how to stop getting mindscrewed, toyed with, and taken for granted. It's killing your hope in love, and likely even eating away at your sense of self. You don't have to admit it to me, and you can hide it from your circle, but deep down, you know. Why am I so sure? Because I've been there before.
I've been on both the receiving and giving end of heartbreak. I've been the bullshitter and the bullshitted. I, like many of you, tried everything to put myself in position where I could never get hurt, but no matter what, I failed because I was already hurting due to my lack of understanding of self-love.
In this book, I take you through not only my personal process in that journey but also the lessons I learned to help me lead millions in that same journey for themselves today. I'm not telling you it's going to be easy, I'm just telling you that if you continue going in circles like you've been doing then it's by choice because I've now given you the map. The rest is on you to make the necessary steps. Just don't forget your crown
Some of the topics discussed:

Narcissistic Red Flags
Most Common Mistakes Made on Dates
Questions that Need to Be Asked On First Dates
How to Recognize A Good Man
Kinds of Women Good Men Avoid
Ways to Protect your Relationship from Outside Influence
What it Takes for A Man to Change, Not Just Adjust
The Value of A Woman's Intuition
Rewards and Drawbacks of Dating Multiple People At Once
Signs That A Woman Is Gone for Good
Why Advice from Elders is Not Always Practical
How to Spot A Cheater Before Falling In Love With One
The Impracticality of Polygamy
The True Definition of Self-Love
Why and How the Roles of A Man As "Protector and Provider" Must Evolve
Why "Marriage-Minded" As a Trait is Not Good Enough
Why You Need More Than Love for a Healthy Relationship, and the Additional Things Needed
Benefits of Marriage When Done Correctly
Why Friends With Benefits Never Works
What A 'Soul Mate' Really Is
How to Properly Apply the "90 Day Rule"
Why Confidence in Women Is Not Always Valued
*Please allow 7-10 Business Days to receive signed copies to allow time for signing. You can reach us any time at support@shopderrickjaxn.zendesk.com
Also available on:
International Orders: We ship worldwide and charge shipping based on the country and province. Please be aware that additional customs charges may apply at the customers expense. We are not responsible for any additional cost customs may require for order and refunds will not be given.
Customer Reviews
Write a Review
Ask a Question
Filter Reviews:
topics
something
times
book
videos
flags
chapter
perspectives
woman
messages
03/31/2020
Kimberly W.
United States
Excellent Read..
This book is an excellent read. Very easy to follow. It kinda reminds me of the book "Think like a Man" since this book is written from a mans perspective. I like it and will pass it on to my friends..
03/11/2020
Ashley C.
United States
love it
I am just getting started with the first chapter and i am in love already. This book to me is for all ages, i am just 26 and i am so happy that i have something like this to help me see the red flags.
01/01/2020
Ramona H.
United States
Like oxygen
Love this book. Love this man. When I found him and his messages it was like oxygen to a suffocating woman. I binge watched his videos and the validation I felt was amazing. My world was spinning and crazy. His book...his message righted my world and stopped the crazy. He gave me the most precious gift...hope. You need to read it!
12/22/2019
Roxann J.
United States
So Excited!!!
I'm so excited, it's arrived...I couldn't wait to check it out. I skimmed through it immediately but have not got to start reading yet, due to being busy with the holiday season. I feel this book is going to help me Love me and realize how special and important I am. I tend to attract men that seem to want to tell me how I should be and what is wrong with me. Even though deep down I believe I am fine and good just the way I am. Unfortunately their words make me start doubting myself and what I have to offer. Then even though I feel I shouldn't, I think to myself maybe they are right and I should give them a chance. Then I'm uncomfortable and unhappy. I'm hoping with this book I will learn to listen to myself, my intuition and my feelings without doubt. I feel all his videos, seminars, messages and writings are inspirational and I an relate so well to what he is about...it's everything I'm looking for n a partner,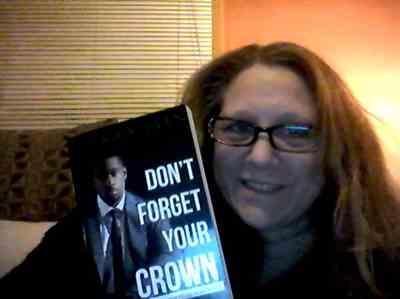 12/21/2019
Paula I.
United States
Great read!
Highly recommend.